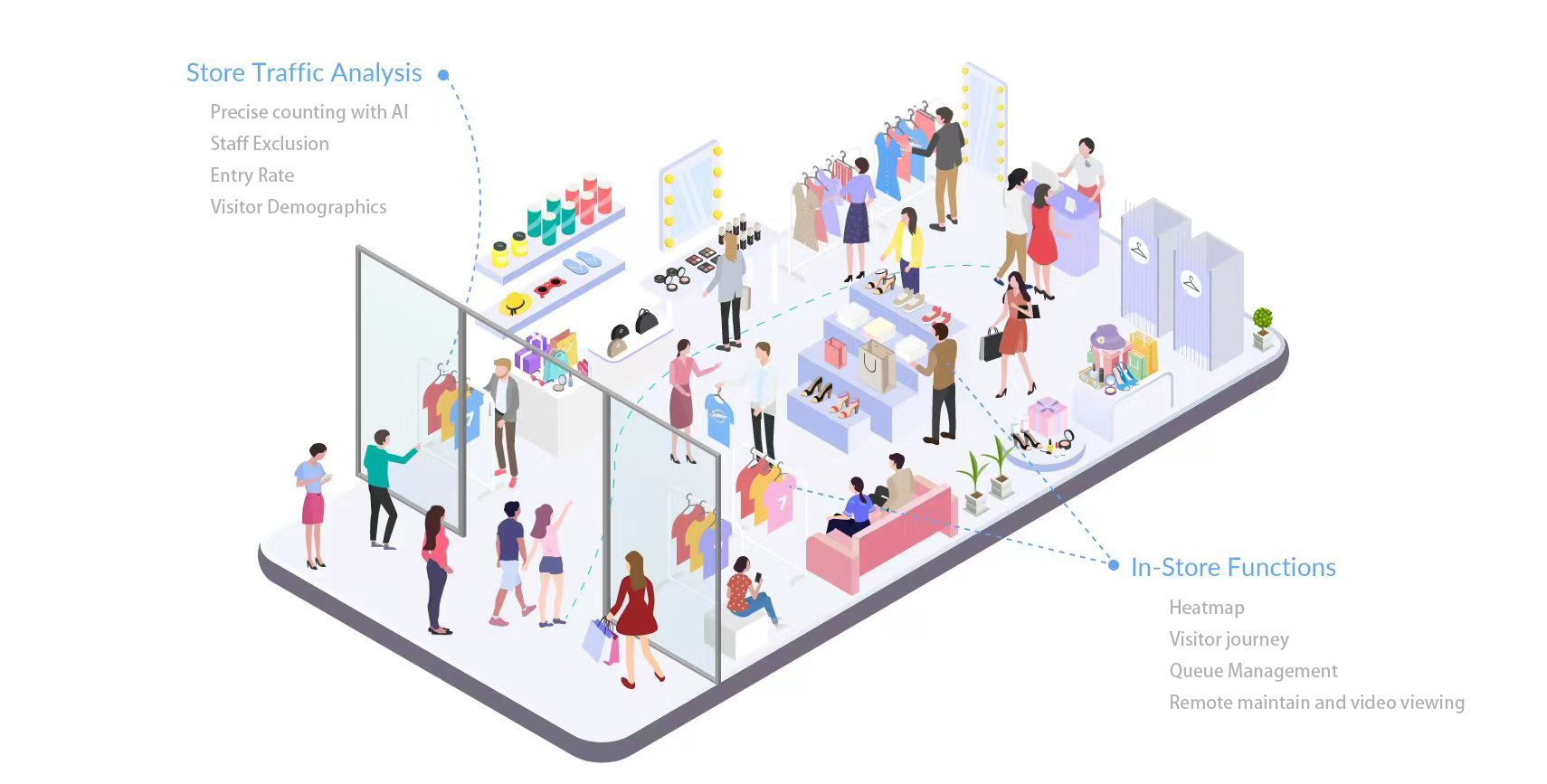 Key Features
Key Features
• 01
Precise counting with AI
Based on deep learning models trained using millions of sample data from thousands of real scenes, achieves 98+% counting
accuracy and is robust under various conditions including high volume traffic, shadows and strong or dim lighting environment.
• 02
Staff Exclusion
Staff activities typically account for 30% to 50% of flow counts, which makes it essential to deduct the staff counts from the
overall traffic counts in order to obtain the real customer counts. TrueFlow technology which is tag/dangle free, customer
privacy assured and no need for staff pre-registration. This innovation solves a long-standing technical challenge in the industry.
• 03
Entry Rate
Designed with a large coverage, people counting sensor can measure both the pass by flow as well as the entering traffic.
The ratio between the two quantities is the entry rate which is a crucial KPI for store operations.
• 04
Heatmap
When a visitor stays in the store zones for more than a certain period of time (default 10 seconds), system will judge as a
dwell visitor, and the accumulated dwell visitors form a heat map to determine which parts of the store are popular zone.
• 05
Visitor Demographics
Visitor attributes such as age gender can be recognized. These measurements can be useful for visitor segmentation,
assortment analysis.
• 06
Visitor journey
Wiwide's retail solution is able to analyze the main patterns of visitor journey, which can be applied to optimize the store
layout, facilitate visitor flow, and to reduce "cold" areas with few visits.
• 07
Queue Management
By measuring the queue length and waiting time, the store manager is able the react in real time to provide the best quality
of service and to avoid the situations when customers give up purchase due to long waiting time.
• 08
Remote maintain and video viewing
All device can be configured remotely via the Internet without sending engineers to the site. And supports connection with
existing cctv system to remote viewing video.